Eight Ounce Response to COVID-19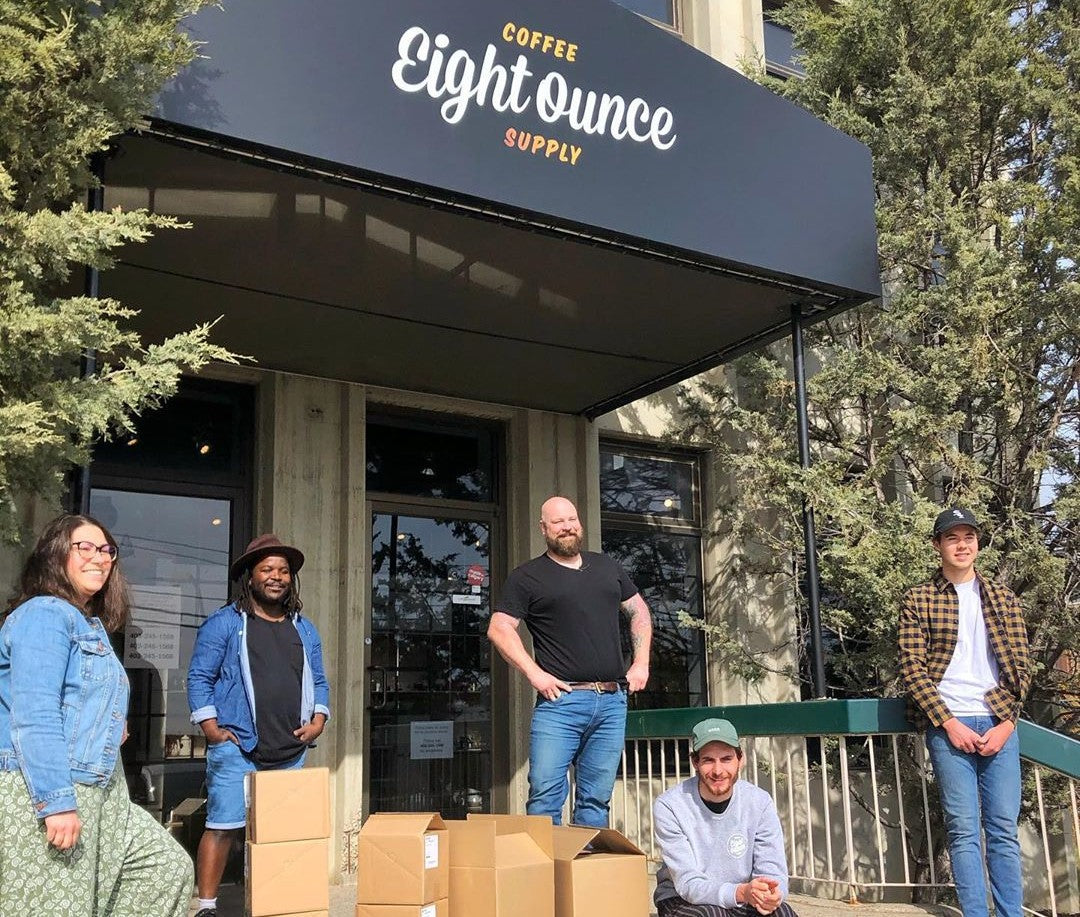 Update Monday, March 16:
So much has changed over the past few days. Our showroom is now closed to the public, and we are working on a skeleton staff in the office. Our warehouse team are working in shifts to spread out contact time, and the rest of our staff are working from home. The entire specialty coffee industry is feeling the impact of social isolation - which is absolutely necessary to flatten the curve of COVID-19. But please be mindful of where your money goes at this time, and continue to support small independent roasters by buying their coffee online, by buying your coffee equipment from them or from us and not from Amazon, buying gift cards online that you can use later when those cafes are open again, and if you are out, buying take-out coffee from those cafes who are still open. We're all hurting right now. Keep your distance from each other - we owe it to the vulnerable members of our society to do everything we can to break the chain and not pass this on. 
---------------------------------
Like us, you've probably been inundated with emails in the past few days about what companies are doing to prevent the spread of Covid-19. Most of them are the same - talking about how they are sanitizing more often, and wearing gloves when you pay cash. Other emails are about temporary closures of major facilities, or cancellations of events you were looking forward to.
It sucks. We watch Hollywood movies about pandemics for entertainment, but it's pretty shocking when it happens in real life, and the globe collectively panics. (We're still waiting for half the world to wake up about the climate change crisis!)
I'm not going to bore you with a message about how often we're sanitizing surfaces at Eight Ounce - we don't want to spread this virus any more than you do. What I will tell you is that we have been thinking about it, talking about it, and planning for it for weeks. Our team is our most valuable asset, and their mental health is the most important thing to us (yes, even above catching the virus), so we're keeping things positive and rational here. We're already a pretty clean bunch, but we've become obsessed with handwashing and elbow bumping.
We're a small company, and we keep ourselves as fit and healthy as possible, so as long as the government considers the risk low, we're not worried about spreading germs around like in a larger company. And most of us can work from home if we need to. Our desks keep us more than 2 metres apart - the recommended length for social distancing - and we've ceased cuppings, and passing around cups of our latest coffee brewing experiment. We have products that ship to us from China and Italy, but we have absolutely no concerns about contamination - viruses can't live on a surface that long. Our showroom isn't a high traffic space, and we're implementing extra measures to keep it sanitary. We plan to keep shipping orders out quickly and efficiently. 
Social distancing and hand washing are our most effective tactics in slowing the outbreak. But what keeps me up at night is the cafés and restaurants that will suffer when we all stay home. For these small businesses, margins are tight, cash flow is tough, and owners are worried sick about how to pay their staff and keep their doors open through the outbreak. At Eight Ounce we're trying to think of ways we can help support these businesses who are the lifeblood of their community (and are our livelihood), and limit their struggle as much as we possibly can. We're going to be there for them.
The enemies of small business - Amazon, Walmart, and Costco - are all going to report record-breaking profits in 2020 thanks to COVID-19. How can we redirect some of that money to the real people who serve us our cappuccino every morning? Cafés are taking huge precautions to keep you safe so that you feel reassured enough to keep coming in. Keep going in. If you're preparing for self-isolation, buy a bag of beans from your local roaster to make coffee at home. Heck, buy two! And make sure you tip the barista - they rely on those tips. Buy home brewing equipment from your local café, and make sure you've got lots of filters. Most coffee shops sell reusable cups so you can make your coffee at home and take it to work, if you're still going.
And for the sake of mental health, let's keep this positive and remember that we're all in it together. Turn off social media and news alerts for a while - overexposure to a distressing topic increases anxiety. We're not being invaded by aliens. We're not heading towards World War III. In fact, when was the last time the world was so united by one thing? Stay home, limit your contact with other people, and save lives by breaking the chain. 
I believe it's possible for us to "flatten the curve" (slow down the spread to prevent overwhelming our health care system) while also supporting small local businesses to ensure they are able to stay alive after the outbreak is long gone. Let's all do it together.
Jennifer Farnell,
Co-Founder, Eight Ounce Coffee