HARIO V60 – What's the Difference Between All of These Pour Overs?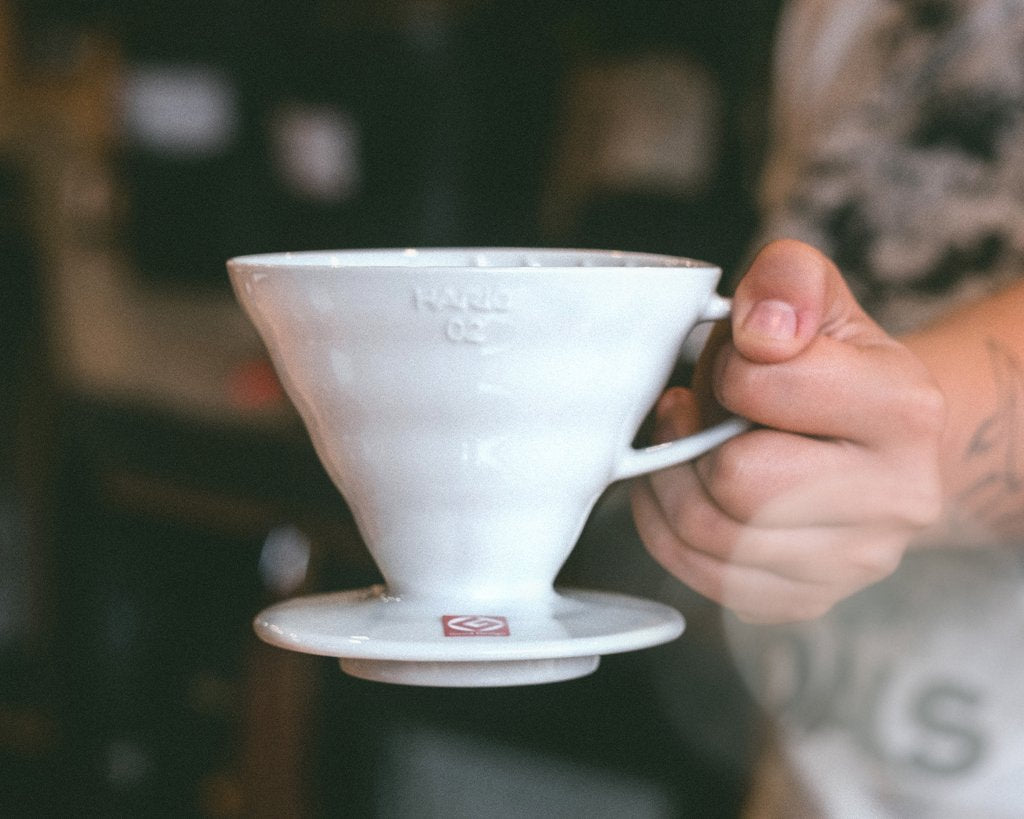 So, you're interested in making a pourover. Are you just starting out in hand pouring? Or are you, perhaps, continuing your journey through the sodden streets of pourover-ville? No matter your experience level, this is a learning guide to answer the ever pressing question:
What is the difference between a plastic, ceramic, glass, and metal HARIO V60?
Because we get asked this question often, we decided to create an all-in-one detailed guide on everything V60 for the coffee enthusiasts out there.
Weight:

 lightweight

Sizes:

 this option comes in multiple sizes

Durability:

 reliably durable for the material

Travel:

 can be used in varying conditions, and do not need to consider breakage as much as you would with other materials

Temperature:

Slight advantage in thermal mass over ceramic in that heat does not readily transfer/absorb into the plastic

Does not "grab" onto heat, thus keeping a steady temperature throughout

No heat sink, keeping pourover temp consistent

Material:

Polypropylene (BPA free) for the White V60, and thermoplastic styrene-acrylonitrile resin (BPA free) for Clear V60 
Classified as thermoplastic with a melting temperature at 130

°

C. Wondering how hot that is? Let's just say it's very,

very

hot 

Does not react readily with dilute acids and bases – c

offee has a neutral pH level of ~5.0 (varies depending on the coffee)

A relatively inexpensive material

Resistant to absorbing moisture. However, susceptible to oxidization overtime
Summary: The Plastic V60 in both clear and white offers high durability at a low cost. This product is also the perfect traveling companion and a highly recommended dripper. Although plastic combined with heat carry a bad reputation, this product is safe to use. Otherwise, we wouldn't be selling it! 
Weight:

 the heaviest out of all materials

Sizes:

 this option comes in multiple sizes

Durability:

 in terms of breakage, ceramic must always be handled with care when using. However, this V60 can last a long time if well looked after 

Travel:

 considering that this product is made of ceramic, care must be involved when travelling. If it is not carefully packaged, there is a chance of breakage

Temperature:
A great thermal insulator–can hold temperature to a certain extent as long as the ceramic is preheated with hot water

Recommend preheating dripper

Heat retention possible, keeping coffee hotter for longer

Do not have to worry about leaching of toxins

Material: porcelain
Summary: If you're looking for an aesthetically pleasing option to keep in your kitchen, the Ceramic V60 is the choice for you. This pourover is also cafe-friendly as long as it is treated with care.
Glass Black and Olive Wood V60
Weight:

lighter than ceramic, and heavier than the stainless steel option

Sizes:

 Olive Wood comes in one size, Glass Black comes in multiple

Durability:

 since the dripper portion is glass, there is a chance of breakage depending on the situation. However, HARIO is known for their high quality glass, and it can withstand more than you think! I have been using the Olive Wood V60 at home for over a year and have had no issues

Travel:

 if it is stored safely, then the less chance of it breaking. However, we recommend a more durable option if you travel with your coffee setup often

Temperature and Material:

HARIO is well-known for their high-quality glass. The material they use is borosilicate glass, aka. heatproof glass:

Durable against chemicals

Prevents odour and colour absorption

Compared to normal glass, borosilicate glass does not expand as much when in contact with heat

Made from 100% raw, natural materials

In the HARIO factory, they use electricity instead of fuel for melting–less emissions, more energy efficient. For more information on their heat proof glass, you can find that 

here



Summary: Similar option to the Ceramic V60 in that you would not want to take this on-the-go without packaging it carefully. For coffee enthusiasts who are looking for an option for daily use at home, work, or in a cafe, the glass version is a recommended product for these environments
Weight:

heavier than plastic, lighter than glass and ceramic

Sizes:

 one size

Durability:

 very durable, but is prone to dents depending on the density of impact

Travel:

a great travel companion to match your camping gear

Temperature:

Insulation can vary, but it is a relatively good conductor of heat. It picks up on brew temp quite quickly, and similarly, loses temperature quickly.
Material:

 stainless steel. From what we gather, this material does not absorb or affect the flavour of the coffee. To find out if a metal dripper creates a noticeable flavour, you can find more about this topic here.
Summary: You cannot really go wrong with the Stainless Steel V60. This is a durable and travel-friendly option that can serve as a quintessential part of your everyday brew kit. 
–
If you are someone who needs a pourover that will withstand those accidental hits and slips, the Stainless Steel or Plastic choices make for durable and light-weight options. If you are instead looking for a modern, yet simple look to use at home or in a cafe, the Glass or Ceramic would fit perfectly in any environment–just be aware of your surroundings to avoid breakage!
We hope this information helps your decision in some way. All of these options make a great cup of coffee with the right recipe and method. For more blogs about the V60, make sure to check out the links below!
読んでくれてありがとう ! (Thanks for reading!)
For more blogs on the HARIO V60:
V60 Material and Temperature Comparison
Does the V60 Metal Dripper Impart a Metal Taste?