Everything you need to Know about Manual Coffee Brewers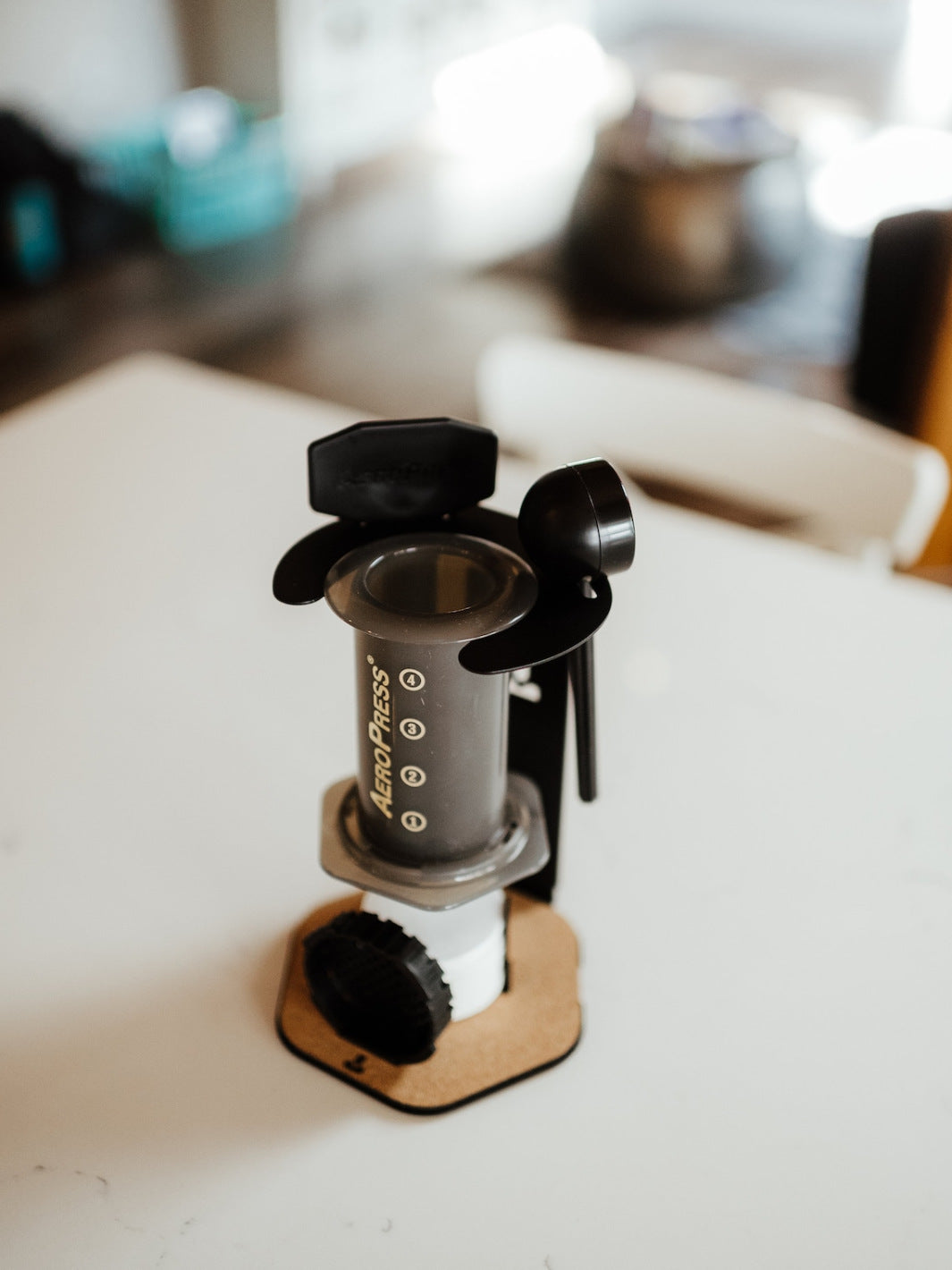 Which Manual Brewer is Best for you?
Purchasing a manual brewer is overwhelming when considering the different methods and models there are on the market. That's why, we've compiled a list of the essential attributes of different manual brewers to assist you in uncovering your coffee needs. This guide will ensure that your selection aligns seamlessly with your lifestyle and brewing preferences.
Heat Retention
If you are like me then you often find your coffee turning cold before you get to enjoy it. If you are looking for a way to keep your coffee hot for longer, then effective heat retention during both the brewing and drinking stages is crucial. I've recently discovered that for remote workers or for a simple brewer on the go, the CafePress is a  great little gadget to have. The Cafepress offers impressive heat retention despite its simple design; its double-walled construction ensures the contents remain hot even after a full 10-minute brewing process. The brewing method is straightforward, making it suitable for those seeking a quick, forgiving and hassle-free cup of coffee. 
An alternative for those averse to plastic is the Espro Travel Press Coffee. Similar to the CafePress, it boasts excellent heat retention through its stainless steel vacuum-insulated double walls, keeping the outside cool and the inside hot (or the other way around for iced drinks). Additionally, the Espro Travel Press Coffee includes a double-filter plunger that guarantees a clean brew, sediment-free. This convenient feature allows you to detach the 'French press' module and attach the screw-on lid for on-the-go drinking, making it the perfect french press for travel and everyday! With these two brewers, you are sure to have a fresh, warm and tasty drink anytime!
Brew Control
If your goal is to possess complete mastery over your brewing process and closely oversee every aspect, then the V60 brewer should undoubtedly be on your radar. Adored by experts, professionals, and coffee competitors worldwide, this seemingly uncomplicated brewing method offers the barista full manual command, leading to the tastiest outcomes. This conical-shaped brewer has become a staple in various sizes and materials—ranging from plastic and ceramic to porcelain, glass, metal, stainless steel, and even copper. While debates about the optimal material persist, the ultimate choice lies in your own personal preference.
If you would like more information on the difference of pour overs, please check out our blog: Difference Between All of These Pour Overs?. This article offers valuable insights to help you navigate the choices of pour overs. Additionally, if you share my curiosity regarding the impact of temperature on these brewing devices, you'll find our article on the 'HARIO V60 Material and Temperature Comparison' to be quite insightful. This is all designed to facilitate your journey towards crafting the perfect cup of coffee.
Versatility
Perhaps you're the type of coffee enthusiast who appreciates flexibility, recognizing that there are no hard or fast rules when it comes to coffee. There's a multitude of approaches to brewing coffee, making it a delight when a brewer can accommodate to your ever-changing preferences. A prime illustration of this adaptability, although it might catch some off guard, is the Aeropress Coffee Maker. Originating from simple beginnings, the Aeropress stands as an impressively versatile brewing device that has had a surge in popularity over the recent years.
Created by inventor Allan Adler in 2005, the Aeropress has captivated countless coffee enthusiasts, each of whom has perfected their unique techniques with it. These techniques are now showcased in annual Aeropress competitions held worldwide. These competitions serve as vivid demonstrations of the brewer's versatility and the general excitement it offers. This is precisely why we hold this brewer in such high regard and wholeheartedly recommend it to our customers. In fact, we love this brewer so much that we are now the Regional and National hosts of the Canadian Aeropress Championships! 
Whether you're at home, on the move, camping in the great outdoors, or situated in your office, this all-in-one product seamlessly adapts to your surroundings, making it the ideal companion for any scenario. Still seeking more reasons to be convinced? Explore this article featuring 5 Aeropress recipes that are an absolute must-try!
Aesthetic 
If you're seeking a coffee brewing device that is both aesthetic and functional, I recommend the iconic Chemex. Its timeless design, originating in 1941 is widely regarded as "one of the best-designed products of modern times." Dr. Peter Schlumbohm, the inventor behind it, recognized that the art of coffee-making need not sacrifice beauty, proving that design and science (because yes, coffee is a science) can harmoniously coexist.
Chemex Coffee Makers are crafted from non-porous, heat-resistant glass and paired with scientifically engineered filters to make a cup of coffee that is both clear and rich in complexity—all while maintaining an elegant appearance. The original design has remained relatively unchanged over the years, and for good reason—why change something that functions exceptionally well? However, Chemex now offers a range of sizes and additional accessories that complement its charm. These include the CHEMEX® Ottomatic 2.0 Brewer (Six Cup Classic), the stylish CHEMEX® Cream and Sugar Set, and the versatile CHEMEX® Chettle.
The CHEMEX® is designed so well that it even has earned a permanent spot within the Museum of Modern Art in New York—an indication of its cultural significance. If this brewer merits a place in a prestigious museum, then I'm sure you can find it a prime stop on your kitchen counter, adding a touch of beauty to your daily coffee ritual.
'The Hybrid'
If you have a preference for immersion brewing methods, but find the results from brewers like the French press to lack clarity, a solution might be found in the realm of 'Steep and Release' brewers! These unique devices can be thought of as a fusion between immersion and pour-over techniques. An excellent example of this is the Hario Switch, which could be likened to an upgraded version of the V60. It delivers a final brew that maintains a delicious richness while also allowing a lot of nuance of flavors. The best part about the Switch is that it is a two-in-one brewer. Depending on whether the valve is open or closed, it can be utilized either as an immersion brewer (similar to a French Press) or a full pour-over device (akin to the V60). This versatility encourages experimentation and exploration.
Similarly, the Clever Dripper is a remarkable Steep and Release brewer that offers a great deal of flexibility in adjusting your brewing parameters for a wide range of resulting flavors. Notably forgiving, the Clever Dripper is an ideal introduction for newcomers to manual brewing. On top of its ease of use, you can expect a consistent, clean and well-extracted cup of coffee using the Clever.
Ultimately, these innovative Steep and Release brewers bring together the best of both immersion and pour-over worlds, providing a nice balance between convenience and flavor control.
Precision
When pouring without a gooseneck kettle, achieving a uniform pour and minimizing channeling can be challenging. Opting for drippers such as the FELLOW Stagg [XF] Pour Over Dripper, the TRICOLATE Brewer, or the NEXTLEVEL LVL-10 Brewer can help counteract the detrimental effects of bypass in your brew, making them valuable tools for a more controlled and uniform pour-over experience. With their cylindrical design featuring a dispersion shower, these drippers introduce a newfound consistency to manual brewing—benefiting both the dedicated enthusiasts and those who are looking for a more accessible coffee process. 
In conclusion, the world of manual coffee brewers offers an array of options to cater to every coffee lover's unique tastes and needs. Whether you prioritize heat retention, brew control, versatility, aesthetics, or precision, there is a brewer suited to enhance your coffee experience. With the right choice, you can transform your daily coffee ritual into a personal and customized journey that consistently delivers the perfect cup of joe, no matter your lifestyle or brewing preferences. So, get to brewing! 

If you need any help or guidance, feel free to reach out to our customer service team at hello@eightouncecoffee.ca!