Olympiques d'Art Latte à Montréal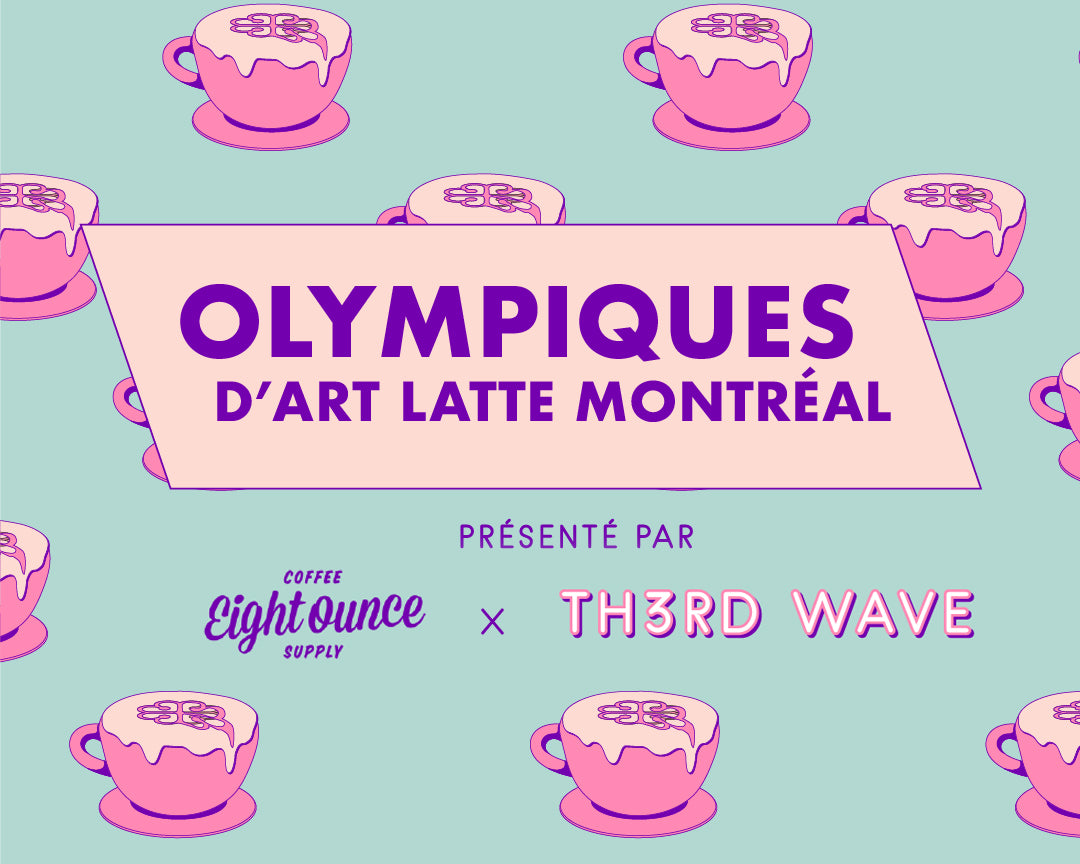 SEP 30, 2018
5020 St. Ambroise, Montréal (QC), Canada
\\ 1PM - LATE \\

FREE ADMISSION! 
We partnered up with Th3rd Wave in Montreal to bring you an all-around amazing coffee event!! 
There will be amazing food and drinks (yes we're talking about coffee and alcohol!), music DJ, you can do some shopping, hang at the outdoor patio, and of course the main event; the Latte Art Competition! Plus the after-party!!

BREW BAR & VENDORS: 1PM - 5PM

Brew Bar will feature our sponsor Phil & Sebastian Coffee!
Your baristas will be:
- Our guy organizing this event, and 3rd Place National AeroPress Championship Finalist - Jon Dempsey 
- 6th Place National Barista Championship Finalist - David Lalonde
Vendors Market will feature local roasters and cafes, and the best coffee merch by artists and Th3rd Wave!

LATTE ART COMPETITION: 5PM - 8PM
We've divided MTL up into 5 sections/neighbourhoods
32 competitors from different cafes will rep their neighbourhood with 8 heats of 4.
WHO WILL COME OUT ON TOP?!
Thanks to the Th3rd Wave team, we will have an app-based voting system so the crowd can vote on the winning designs!! 

AFTER PARTY: 8PM - LATE
What's left to do after some tense competition?! Let the drinks flow, and PARTY IT UP!
~~~~~~~~~~~~~~~~~~~~~~~~~~~~~~~~~~~~~
< Les Billets >
Entrée GRATUITE au public!
SAC SURPRISE pour les participants [quantités limitées, 400 premiers]
Télécharges l'app Th3rd Wave pour réclamer ton SAC SURPRISE
>>>>> https://app.th3rdwave.coffee/mtlolympics <<<<<
Les entrées sont limités due à la capacité des lieux, donc réserves le plus tôt. Premier arrivé, premier servi.

< Village des Torréfacteurs et Artisans: 13h00 >
---> Café gratuit aux kiosques pour découvrir les artisans locaux de notre belle région.
---> À manger, Riverside offre une cuisine végétalienne 💚
---> Food trucks

< Les Compétiteurs >
32 Baristas qui représenterons leur Café + Quartier/ Région

< La Compétition: 17h00 à 20h00 >
Il y a aura 4 rondes d'affrontements
1. Élimination par Groupe
2. Quart de Final: Face à Face
3. Demi Final: Face à Face
4. Final: Face à Face

< Les Prix >
1ière Place: La cagnotte et équipement de café
2ième Place: Équipement de café
3ième Place: Équipement de café
Prix Spécial: Choix du publique

<<< Nos partenaires >>>
Café: Phil & Sebastian Coffee Roasters
Lait: Nantel Distribution Inc
Équipement: Café Pista
Lieu: Riverside St-Henri