Bird's Eye View of Pei Pei Chei Ow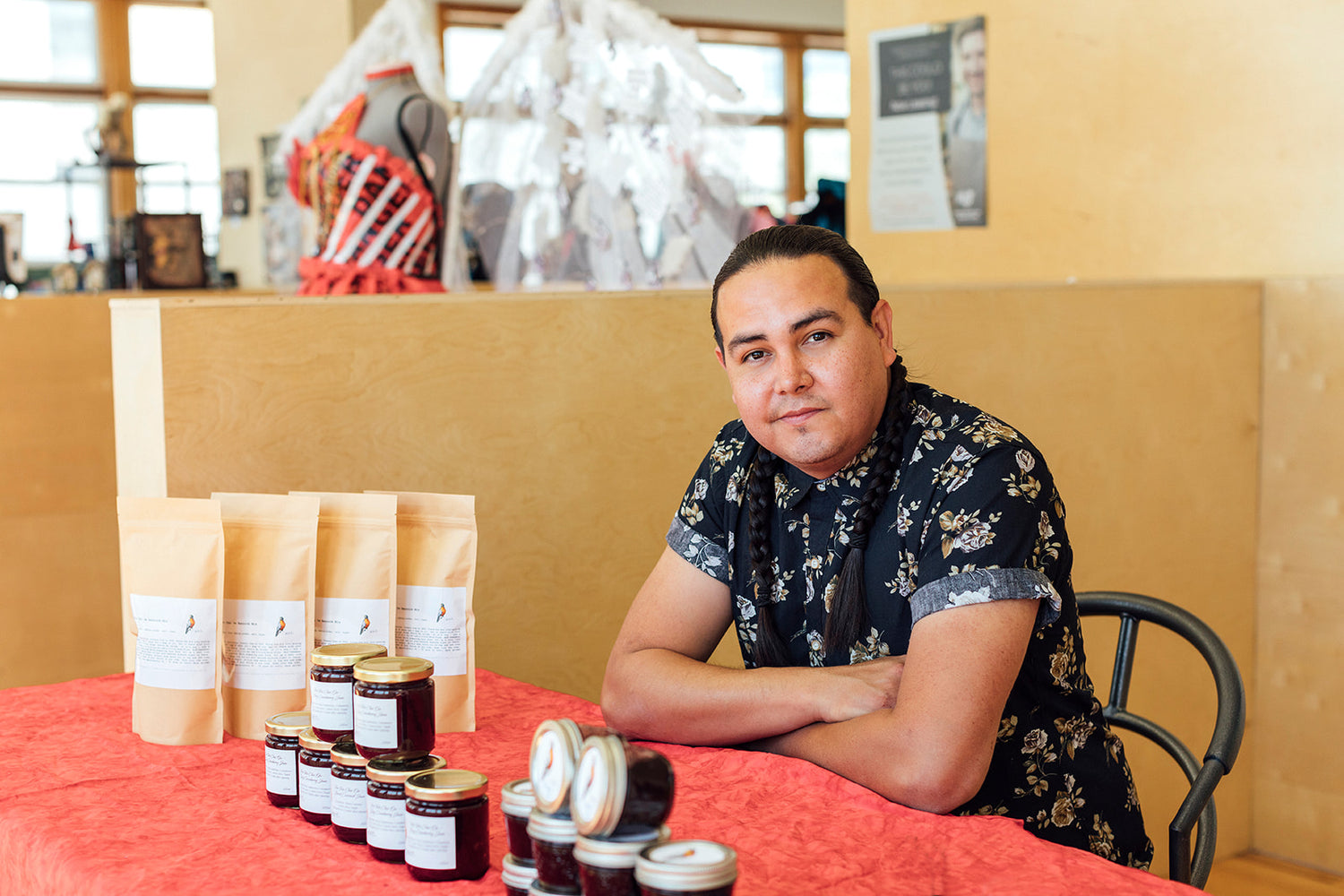 Meaning "robin" in Omushkegowin or Swampy Cree, Pei Pei Chei Ow is more than just takeout and coffee to go. They serve c
ontemporary Indigenous cuisine and Cree Coffee Co. from the Indigenous-owned and operated arts gallery Whiskeyjack Art House in Amiskwaciwâskahikan (Edmonton). 
We caught up with the founder and chef, 
Scott Jonathan Iserhoff, to learn more about his Indigenous food and education company.
It is almost the summer season and it looks like you are very busy. What are some of the things that you're most excited about right now?
Where we're going right now seems like a good place, how fast we're growing. I'm excited just to see our growth. When we talk about how this kitchen is a startup to something bigger, I don't know. I honestly don't know. I just keep thinking one day at a time right now.
We launched our takeout cafe. Right now, just really dialling in everything. Orders, suppliers, catering, consultation work, and off-site events. I'm going to be gone for about two weeks in July for Cooks with Stones with youth. I'll be mentoring Indigenous youth over there. That's something I'm looking forward to.
Do you think you'd ever make it to Mohkinstsis (Calgary) and offer your creations to the folks here too?
We definitely talk about it, we talk about the growth. We see it's becoming a place of inspiration for Indigenous peoples. All across Canada and North America–Turtle Island–I think it's important to have representation. Reaching out to other cities and doing events there, possibly even start a new franchise. Talk about, you know, different territories have different perspectives with food. If we plan on opening in other cities, having chefs from that location, working in those restaurants or cafés, so that they can put their own perspectives in the food and tell stories too.
That really breaks that stereotype of us being all the same, where you can see the different varieties of food that us as Indigenous people have to offer, and the stories behind it, and how regional it is. I think that's the one thing that I want to showcase. I can showcase my food, but then people start assuming that that's how we all cook.
You named your company after the nickname that your grandfather gave to you. Can you tell us more about how that nickname came about?
Back home there are many different stories of robins across Turtle Island. Our story is that they're messengers. So when spring comes around, you'll see a robin. That's one of the early signs that spring is on its way, the awakening of nature, and it's just like signaling to everybody, "Hey spring's coming."
For me, whenever I would visit home, I would just nonstop talk, ask questions. Very inquisitive. Just nonstop talk and that was a signal for like, "Oh Scott's here." So he just gave me the name Pei Pei Chei Ow, which I think is really amazing. It's a memory that's so close to me and it's a name that means a lot.
You're also this messenger sharing your food with everyone, and that's so beautiful. You cite different sources of inspiration, including mino-pimatisiwin. Loosely translated as "comprehensive health" what does mino-pimatisiwin mean to you?
It just means the good life, it means having good intentions, and enjoying what you do. It's really carrying yourself in a good way, loving yourself, and just taking pride in what you do.
How does that translate on your menu or in the dishes you serve?
So whenever I'm cooking, I cook from my experiences, my stories, my memories. All these memories come flooding back to me while I cook. Just brings me happiness. The stories behind the food I get to share with people, the importance of food, also the history of our food. I think that's what really translates to mino-pimatisiwin. Everyone has a different version of it. And that's my version of it.
Let's say someone who has never had any experience with Indigenous food before goes to your takeout stand. What's one dish that they definitely should order?
I don't know. Everything. (laughs) I really like the vegetarian sandwich, the fried eggplant. It's loaded with pea shoots, herbs like mint, wild arugula, radicchio–it's always rotating. We also make a tomato jam with it and a nice aioli. Everything's made in-house.
For me, when I bite into it, the first thing I remember is the smell of mint. It takes me back to a time where you're running through the forest and you can smell mint. You look around you and there are mint bushes everywhere. That's one of my ways of incorporating that story into our takeout, like as a sandwich.
Also, we had a bannock and tea dish. It was a dessert. I had made the tea into an ice cream and the bannock was a bannock bread pudding. So the tea was cold and the bannock was hot. That was just my take on it. Memories of watching my grandfather drink tea and eat bannock. Also my grandmother and my father and my mother. Just watching all the Elders drink tea and bannock.
It's really cool that you get to take Indigenous dishes and put a new spin on them. Can you share your creative process with us?
My creative process is thinking about what I ate as a kid, the stories that I've heard from my parents, my grandparents, and also different Elders, and applying it to a dish.
I solely focus on my family's stories. Incorporating smoke into the dishes too is really important. Usually, it'll take a few days, it'll take a few weeks. Sometimes I'll wake up and think about it, it'll just pop into my head.
For me, this journey has really strengthened my relationship to food because I wake up thinking about food. Go to bed thinking about food. I think during the process there's a lot of growth and reconnection to land and family, and stories of food. I just want to share it with people.