The 5 Best Outdoor Dinnerware Sets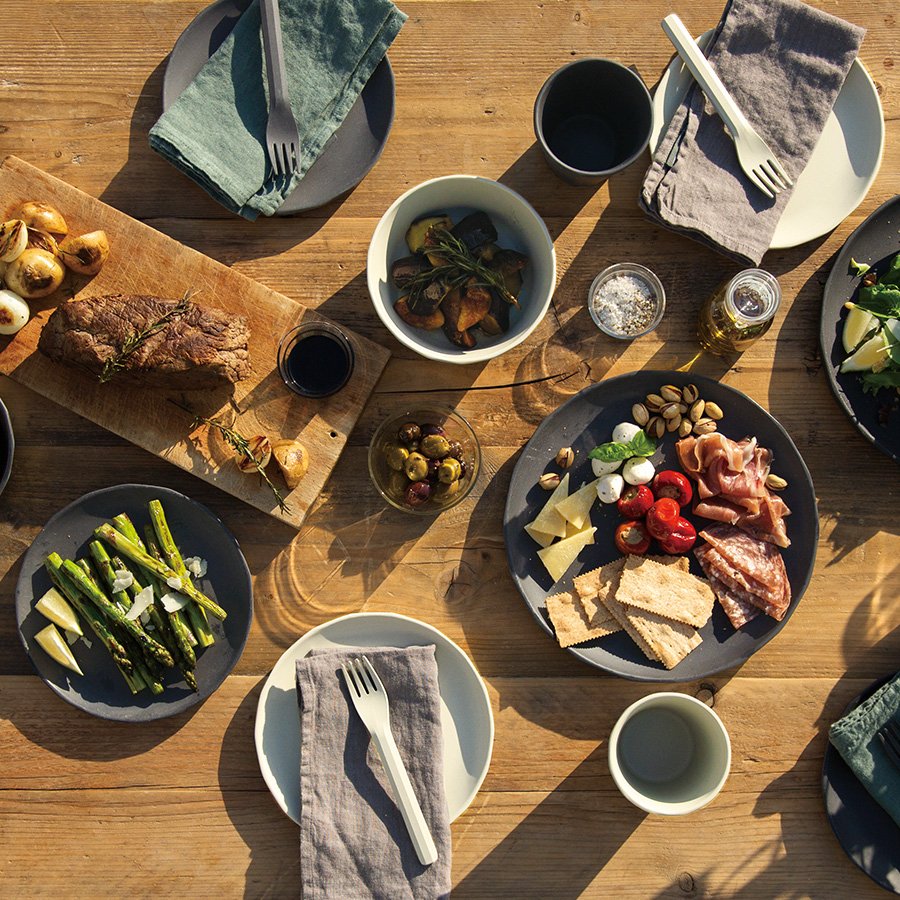 When it comes to outdoor dining, having the right dinnerware is essential for a memorable and fun experience. The products you use should be durable, lightweight, and aesthetically pleasing. In this blog post, we'll explore three product lines that excel in outdoor dining: Kinto Alfresco, Ekobo Gusto, and cookplay Yayoi. We'll delve into the unique features of each line, focusing on how their materials and design enhance the outdoor dining experience. 
Kinto Alfresco: Effortlessly Elegant
Kinto Alfresco is a versatile and elegant dinnerware line designed specifically for outdoor use. Crafted with great attention to detail, this collection seamlessly combines functionality and aesthetic appeal. From Kinto cups to brewers, this line has it all. The materials used in Kinto Alfresco make it a great option for outdoor dining:
a) Melamine: Kinto Alfresco utilizes melamine, a durable and lightweight material known for its resistance to breakage. Melamine also resists scratching, making it perfect for outdoor use where accidental bumps and rough handling are common.
b) Bamboo Fiber: To add a touch of natural beauty, Kinto Alfresco incorporates Bamboo fiber into its pieces. This eco-friendly material is biodegradable and provides a warm and rustic look, enhancing the outdoor dining ambiance.
Whether you're hosting a picnic, barbecue, or garden party, Kinto Alfresco's combination of melamine and Bamboo fiber ensures a delightful and durable dining experience.
Ekobo Gusto: Sustainable and Stylish
Ekobo Gusto is a product line that combines style, sustainability, and functionality, perfect for the picnic table. Crafted from bamboo fiber and food-grade melamine binder, Ekobo Gusto offers an eco-friendly alternative to traditional dinnerware. Here's how it's materials make it an excellent choice for outdoor dining:
a) Bamboo Fiber: Just like Kinto Alfresco, Bamboo is a renewable and fast-growing resource, making it an eco-conscious choice. The bamboo fiber used in Ekobo Gusto gives the dinnerware a natural and organic look while providing strength and durability. It also offers a pleasant tactile experience, similar to traditional ceramics.
b) Melamine Binder: The addition of a food-grade melamine binder ensures that Ekobo Gusto is sturdy and resistant to breaking. It also makes the dinnerware suitable for outdoor use, as it can withstand the rigors of outdoor activities and transport.
With Ekobo Gusto, you can enjoy sustainable and stylish dining experiences while minimizing your environmental impact. It's also free of BPA, PVC and Phthalate. In our opinion, this is one of the best outdoor melamine dinnerware sets on the market.
cookplay Yayoi: Innovative and Playful
cookplay Yayoi is a product line that reimagines the concept of dinnerware, blending creativity, innovation, and practicality. Its unique design and materials set it apart for outdoor dining:
a) Porcelain: cookplay Yayoi incorporates high-quality porcelain, a classic and elegant material that brings a touch of sophistication to outdoor dining. Despite its delicate appearance, porcelain is surprisingly durable, making it an excellent choice for outdoor use.
Cookplay Yayoi offers a visually stunning and playful dining experience that is sure to impress guests and elevate any outdoor gathering.
Conclusion:
When it comes to outdoor dining, choosing the right dinnerware is crucial for an enjoyable experience. The Kinto Alfresco, Ekobo Gusto, and cookplay Yayoi product lines provide exceptional options, each with its own unique materials and qualities. From the durability and elegance of melamine and bamboo fiber, to porcelain, these outdoor dinnerware sets offer practicality, aesthetics, and durability for unforgettable outdoor dining moments. Choose the one that suits your preferences and elevate your outdoor dining experience to new heights.