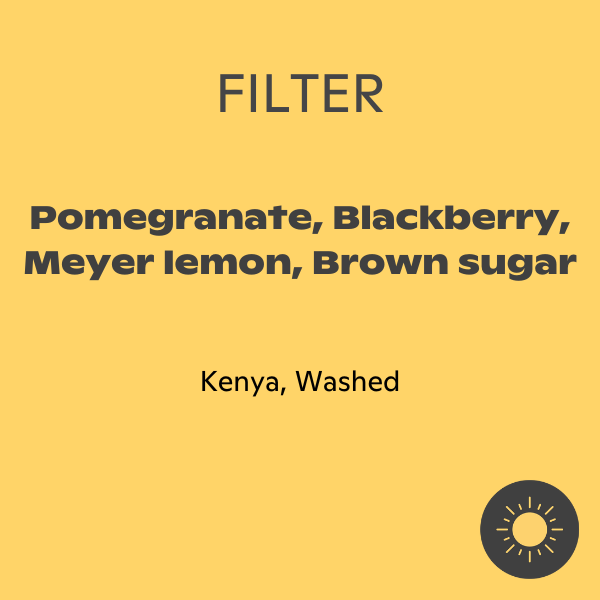 September Coffee Co
September - Muchagara AA
COF-SP-0028
Sale price
$18.99 USD
Regular price
$0.00
Tasting Notes: Pomegranate, Blackberry, Meyer lemon, Brown sugar
Muchagara opened in 1959 and is named after a village in the Kirinyaga county. This is the oldest processing factory in Kirinyaga. The area around this factory is known for its exceptional growing conditions, making the location of this centre ideal for smallholders around this area. It is part of the Baragwi FCS which currently has around 1700 member farmers. During harvest, smallholders in the area deliver ripe cherries to the factory for sorting and processing. An Agaarde disc pulping machine removes the skin and pulp of the cherries before they undergo a period of grading to ensure only the highest quality cherries get passed on. After a period of fermentation for 16-24 hours, the coffees are washed with clean water and soaked for another 16-18 hours to create that distinct crisp acidity unique to coffees in this region. Lastly, the coffee beans are covered and dried on raised beds under the sun for 21 days. The resulting coffee is juicy, sweet, and sparkly with flavours reminiscent of sweet citrus and caramelized sugars.
Lovely Kenyan AA
This Kenyan AA Muchagara was simply lovely. I found the cup to be incredibly juice-like in sweetness and mouth feel. A lovely body with very fruity approach. Can't go wrong with a Kenyan AA, and this is a great one to go for.
Not sure which coffee is right for you?
A Beginner's Guide to Choosing Your Next Coffee Bag